Journal Entry:
Tue Jul 26, 2011, 4:30 PM
Yo!
I made a chest plate body and some shoes today.
Because this is going to be a quite long WIP, I'm only going to post chest plate WIP tonight.
Shoes are coming up tomorrow.
Oh lol, this chest plate almost drove me nuts.
First time making this kind of stuff.
And second time making a cosplay out of wonderflex!
Oh well, I bet you all gonna laugh.
But wanna know how I made it?
I taped myself with wonderflex, heated myself in front of a mirror with a hot air blower and ran in a bathtub full of cold water

Oh lol.
I think it took me about 10 hours to cut, shape and paint it.
Here ya go, a bunch of WIP photos for everyone. I hope you can get some tips!
If you have any questions, please don't hesitate to ask me

Oh some lovely patterns are the first thing to do.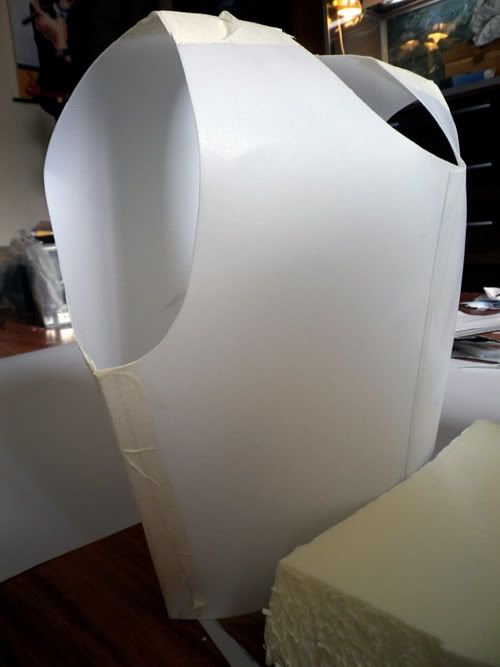 Warm it up and shape it a bit.
More shaping and taping.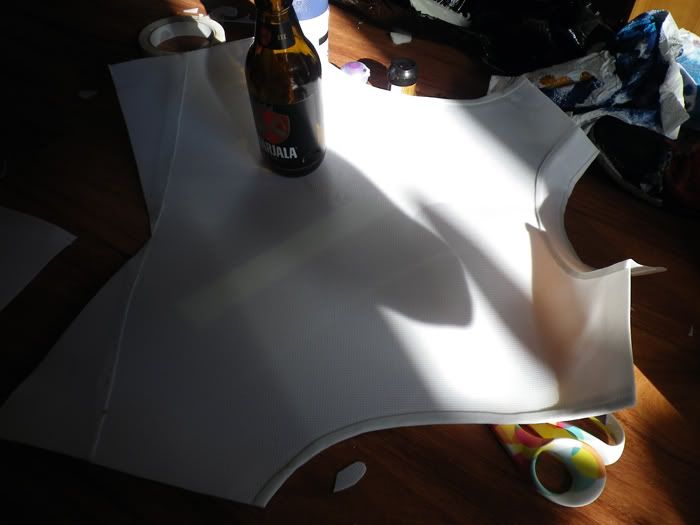 Best weight in the world, a bottle of beer.
Oh trying out some ornaments and stuff. Also made some collar testing.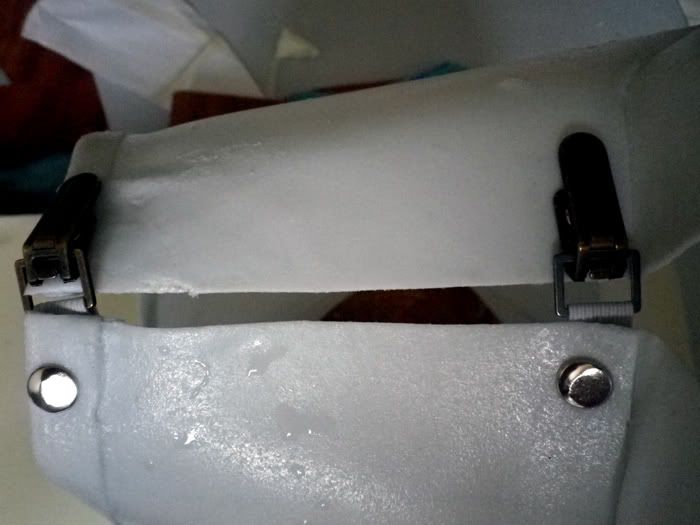 Lock system. A total of 8 locks in the chest plate armor.
In right:: "I would like bigger chest muscles to look cool = No, it's not gonna work, you just look like a man with BIG BOOBS. =__=
In left: The next tryout to make normal chest muscles.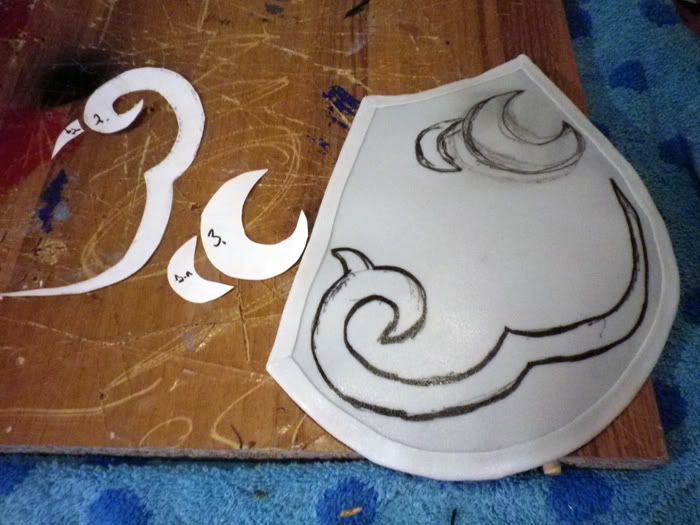 Cutting out some ornaments.
Full chest thing completed.
Chest thing attached.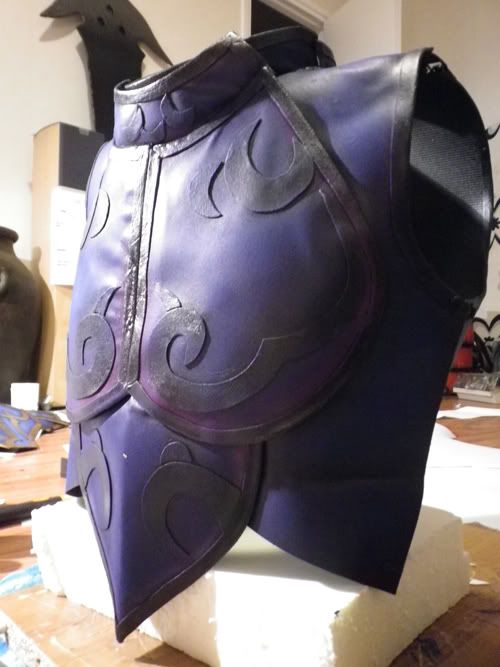 Okay, here comes the tricky part.
First, add a layer of violet in the corners.
After that, add a layer of dark blue with drybrushing technique.
(
en.wikipedia.org/wiki/Drybrush
)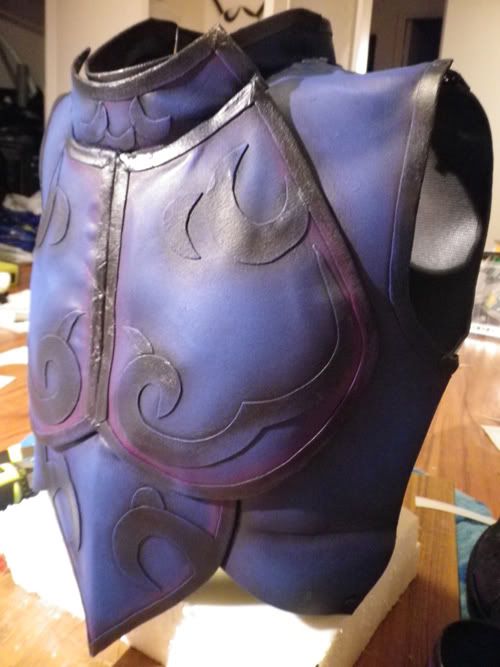 Second layer, a bit lighter blue.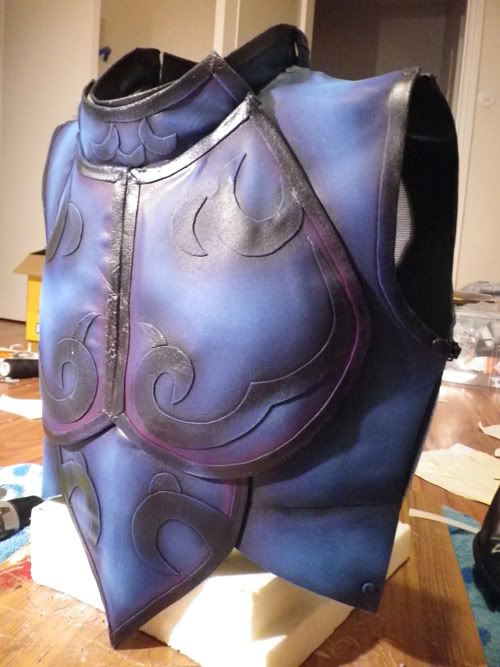 Third layer, even more lighter blue.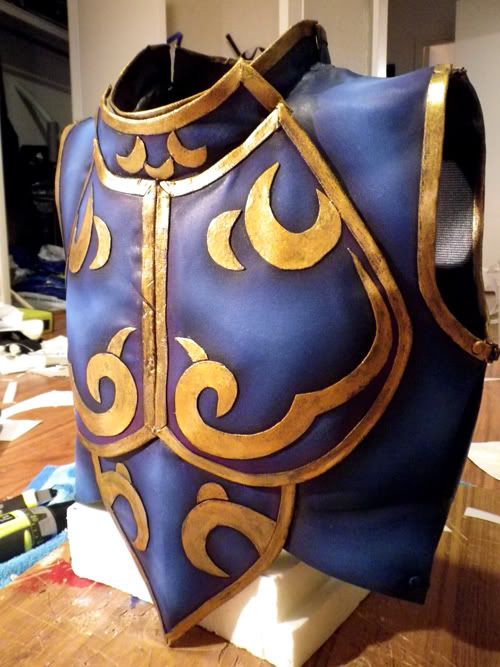 Paint all golden parts.
THAT'S IT! FINISHED o/
Well, that was my first tryout of a chest plate armor.
What do you think?
Tomorrow I will post the shoes WIP and a photo of the full body amor on me.
Hope you will like it!
-Elffi
Mood: Wow!
Listening to: M-flo
Drinking: Beer