16.5.2011
HEYA!
I'm back from Bakacon 2011 Finland!
I was one of the cosplay judges and I also held a panel 'bout prop making~
So, here it is, my newest cosplay.
Final Getsuga Tenshou Ichigo from Bleach!
Hope you like it~

elffi.deviantart.com/art/Final…
If you have any questions 'bout this costume, please don't hesitate to ask!
And I will post some more photos tomorrow.
Now I gotta sleep, it's almost 3AM!
See ya~
-Elffi
11.5.2011
PSST:
Oh, and if you got some spare time, please vote in the Otaku House Cosplay Idol 2011 Contest!
"like" Otaku House on Facebook, see the albums and vote for someone! (1 vote = "like" a photo)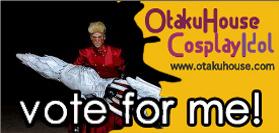 <a href='
www.otakuhouse.com/cosplay-ido…
style='text-decoration:none;color:#333333;font-family:arial,Geneva,helvica;font-size:9px;display:block;width:282px;margin:0

adding:0;text-align:center;line-height:10px;'>Elffi as Vash The Stampede
www.otakuhouse.com/cosplay-idol
-Elffi
10.05.2011
Yo!
Summer is coming up here in Finland too. Today was almost +25 celcius and I'm making a new cosplay in my apartment...
Well, back in the cosplay business now. I managed to gather some money by driving taxi for a few weeks.
Now I'v got some cash to make a cosplay or two! Bakacon (www.bakacon.fi) will be held next weekend 14-15.5.2011!
And I just started a new cosplay two days ago. O_o
What is this, it's only Tuesday and my cosplay is almost finished?
Only some improvements and shadows are missing from my shirt, wig is unstyled and I have to sew one gray glove.
Really weird...
So, as I have been a bit busy this spring, it's finally time to concentrate in cosplay!
After this one I still have 3 more cosplays to do before August. You can just guess what they are! (That's what I'm also doing...)
Okay, as I have done almost all of the previous costumes of this character I also had to make this one!
Kurosaki Ichigo and Final Getsuga Tenshou.
Well, I managed to take a WIP photo. I'm not really used to take or publish any WIP photos, but here is an ugly one!
Lot's of gray pieces!
We also made copies of our heads out of plaster of Paris with Shufu!
These are for wig styling! Here is my copy~
It's time to say goodbye to my dear Mozart.
I used his head for styling wigs before this~

I'll be one of the judges in the cosplay competition in Bakacon, and I'll also held a "How to make props easily" - lecture at Sunday.
Well, I'll post some photos of the finished costume next week!
Cya~
-Elffi